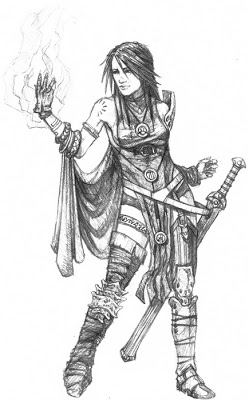 Let's get this out of the way: I strongly dislike Vancian magic.
When I started work on Heroes Against Darkness we'd just finished playing a long 4th Edition campaign followed by a shorter Basic D&D campaign. The switch from 4th Edition to Basic was caused by a general dissatisfaction with 4th Edition (don't get me wrong, I'm not a hater) and frustration with the final module that we played (Pyramid of Shadows). The experience of playing some Basic reminded me of why I stopped playing that edition all those years ago:
• Class as race
• Spell level != character level
• Slow non-magical healing
• Clerics get no spells at 1st level, but elves get one?!?
• Arbitrary lists of armor and weapons for magic-users and clerics
• Tables (to hit), tables (saving throws), tables (thieves skills), and more tables (every damned ability score has a different one)!
Now I could whine about Basic all day, but at the time it was state of the art. Things have moved on since then, with a lot of mechanical improvements, simplification and consolidation of separate sub-systems, and better scaling for all systems.
Sadly, one of the areas where things haven't moved on in D&D-land (at least until recently) has been the magic systems. Until 4th Edition folded martial and spell powers into the AEDU powers system (At-Will, Encounter, Daily, Utility), D&D had stuck with the same system of Vancian spell-casting, on top of which they layered various fixes to address specific and general issues (spell resistance, casting feats, spontaneous casting, various dalliances with psionics, etc).
It's a relic of the past that should have been discarded from D&D shortly after it was introduced. It doesn't work particularly well on an intellectual, mechanical, or gameplay level. Furthermore, it leads to the unfortunate (literal and figurative) explosion of spell-caster power as they advance in levels while the other classes are stuck with a more linear increase in power. And if you've read some of my earlier posts, you'll know that Vancian spell systems are a terrible waste of pages in game rule systems (compared to the amount of space dedicated to non-magic classes), occupying up to half of the total pages in some editions' player's guides (AD&D 2nd Edition and Pathfinder being the notable examples of this).
So when I decided to make my own system, the major area I wanted to rework was the magic system. I began with the simple goal of implementing a magic system based on spell points (anima), and from there my goals evolved as I implemented the system and learned more and more about it in its evolution through playtesting. Eventually my goals were:
• Magi classes must be balanced against other classes
• Spells shouldn't become redundant
• Spells shouldn't scale without additional costs (Fireball)
• Magi enhance other classes, not replace (Knock, Invisibility)
• No magic can break the game or the GM's narrative control (Fly, Overland Travel, Teleport, Scry)
• No spells should have absolute effects (Finger of Death, Sleep)
• Allow casters to deplete HP to cast spells (blood anima)
• Just four pages of spells for each magi class
This was going to be one post, but it's turned into a monster so I'll cover each of these areas in separate posts, so stay tuned!
---
Check out Heroes Against Darkness over at the downloads page: Heroes Against Darkness – Game Rules.