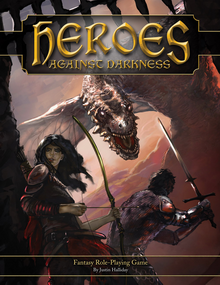 I've updated all of the Heroes Against Darkness PDFs to v1.02.
This is another minor update that addresses one of the issues which has come up in the EN World review (and possibly elsewhere); namely that the class powers are separate from the class descriptions. To address this I've added an extra line at the bottom of the Example Combat and Spell Powers section of each class that tells the reader which page that class's powers are on.
Let me know if any of you have any other feedback for this version of Heroes Against Darkness.
---
Check out Heroes Against Darkness over at the downloads page: Heroes Against Darkness – Game Rules.