The Road to Ruin
Moving on to something straightforward.  I've been working on the card-only version of The Road to Ruin, which is available through DriveThruCards (this may not be available right now).  DriveThruCards recently released printed tuckboxes, so I've been working on a tuckbox for The Road to Ruin.
However, my first shot at this was... unfortunate (I blame DriveThruCards' shoddy tuckbox templates):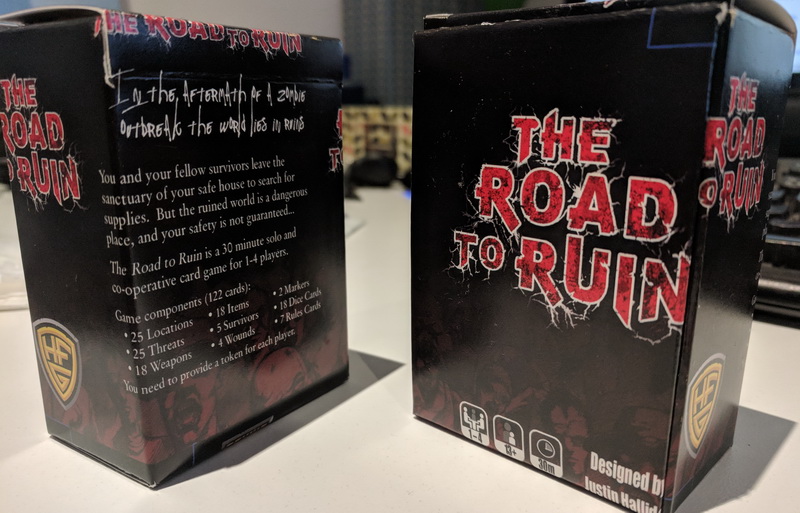 So right now I'm waiting for new proofs of the tuckbox. 🙁
Forge Engine
Moving along, let's talk about the Forge Engine - Universal Role-Playing Game, which has been downloaded over 5,000 times from DriveThruRPG (a huge first response!).
And there's a bunch of work to do on Forge Engine, so let's dive in.
First, I'm working on the print version of Forge Engine.  The first proofs are currently on they way to me (in Australia) right now.  While the artwork in Forge Engine is grayscale, I'm experimenting with a colour book so that it has the parchment look of the PDF.  Let's hope this works.
Here's a quick look at the cover layout: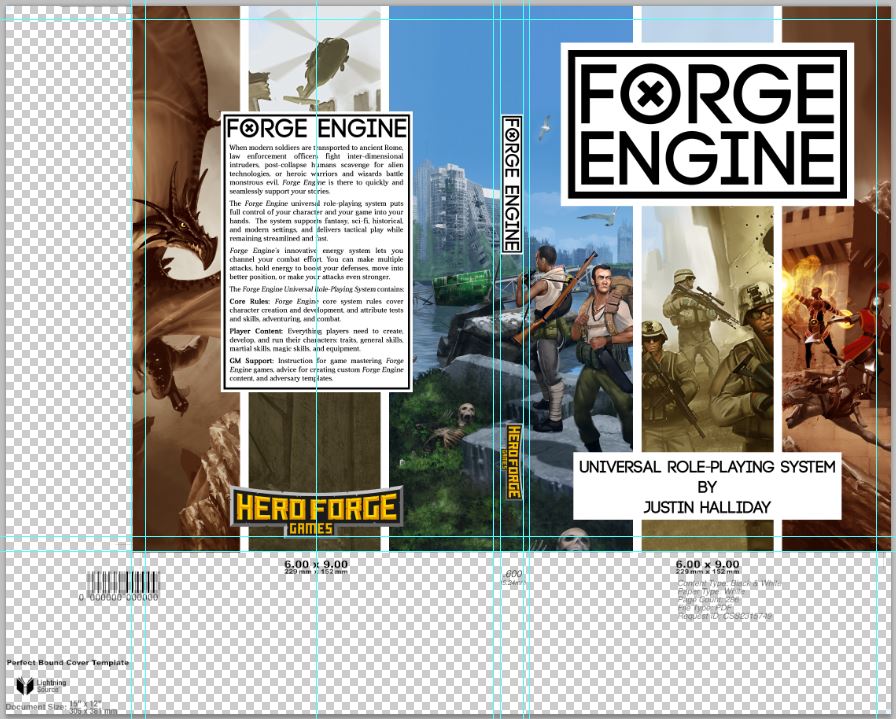 Second, I need to work up a bunch of pre-gen characters for Forge Engine.  This will go into the core download, and help people get an idea of what Forge Engine characters can look like.
This is a really old fantasy warrior pregen that I worked up:
In addition to the pre-gen characters, I'm incrementally working on fillable Forge Engine character sheets, as well as a bespoke fantasy character sheet.
Finally, while Forge Engine is a designed as a system and not necessarily a complete 'game', I feel like I should work up a set of introductory adventures that progressively guide players and game-masters through the core interactions of the system, and introduce them to simple and challenging combat encounters.
Hero Kids
Okay, let's talk Hero Kids.
Hero Kids continues to be the bread-and-butter for Hero Forge Games.  And while the number of releases for Hero Kids has (deliberately) slowed, I continue to support and develop for Hero Kids.  Right now, I'm actively working on several Hero Kids projects.
The first of these is a French translation of the Hero Kids core rules and the Basement 'O Rats adventure.  This is an experiment for me to see what this involves (a lot of work), and whether there is demand for these.
The second active Hero Kids project is a mini-experiment with banner advertising on DriveThruRPG.  I currently run Featured Product Messages on the Family Gaming category on DriveThruRPG.  In addition to these messages, I want to run some A/B tests with a couple of banner ads on DriveThruRPG to see which work best:
Beyond the active Hero Kids work, I have a bunch of tasks on the backlog for this line:
A long time ago I began work on the Reign of the Dragon adventure.  I should finish this...
Hero Kids Adventure Compendium II: This print book would collect the hard adventures into a second book.
Hero Kids Monster Compendium II: There's always demand for more monsters, and a second Monster Compendium would explore more monsters from across the varld of Hero Kids.
Finally, I have artwork and ideas for a set of equipment for the Space Heroes sci-fi setting.
Prioritization and Capacity
My progress through this work schedule is based on my work capacity and various life obligations.  So if there's something on this list that you're especially looking forward to, drop me a comment below and I'll ensure it's prioritized.