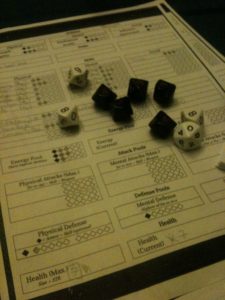 Tonight was our first playtest of a new game system I'm working on called the Forge Engine, which is an Abilities and Skills based d10 system:
• Ability and skill based system (classless)
• Give players freedom to craft their own characters
• Increased power through larger dice pools (d10 dice)
• Opposed rolls for combat to keep participants engaged
• Skill challenges against static difficulty numbers for simplicity
• Dice pools give degrees of success (or multiple hits for combat)
• Combat rolls combine abilities, skill, weapon, and armor into one resolution step
• Energy depletion system reflects fatigue from exertion
• Meaningful decisions for players during critical situations
• Variable Energy economy replaces discrete action economy
Luckily, we had a pre-game run-through yesterday that ironed out a lot of kinks, so tonight's game went surprisingly well (apart from almost getting killed by a pack of mutant rats).
And as an interesting experiment, I'm a player in the playtest, not the GM. This gives me a much better perspective on how the system is working, and gives me more time to help the GM and the other players.
---
No, I'm not dead. I've just been working on Hero Kids and its adventures, which are available at DriveThruRPG: