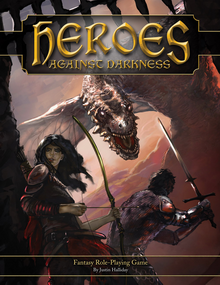 The ENnie nominations have just been released, and I've got a huge case of sour grapes!
http://www.ennie-awards.com/blog/2012-nominees/
Heroes Against Darkness may not have been released by some hot (or huge) company, but it's an actual free product than anyone can download and play and use forever for free.
Let's take a quick look at the their best 'free' products:
An adventure that was available free for one day of the year:
Black Crusade: Broken Chains
A demo of a real paid RPG (Dragon Age):
Dragon Age: Quickstart Rules
A short adventure released as a promo for a real paid RPG:
The One Ring: Words of the Wise
A conversion guide from Pathfinder to Shadowlands?:
Shadowlands Conversion Guide
Another short adventure released as a promo for a real paid RPG (Pathfinder):
Pathfinder Module: We Be Goblins!
UPDATE: There is a free download of the Black Crusade adventure, but it wasn't on the first ENnie nomination post, and before the nominations came out you'd have to find the link through Google (not through the ENnies or the publisher):
http://www.fantasyflightgames.com/ffg_content/black-crusade/news/free-rpg-day/follow/Broken%20Chains%20Low%20Res.pdf
---
Here's what a real free product looks like, enjoy:
Heroes Against Darkness: Downloads.